Our urban projects connect people to rivers – and restore ecological function to highly altered systems. Urban waterways are some of the most damaged in the United States, but increasingly, cities are transforming them from polluted eyesores to well-designed waterfronts that are magnets for commerce, healthy lifestyles, and thriving fish and wildlife habitat. We take a holistic approach to urban stream restoration, working with planners and landscape architects to apply the latest river science and engineering knowledge to complex urban stream projects.
Urban streams form ribbons of biological diversity, including refuge areas and migration pathways for native species in otherwise impacted landscapes. However, they are novel ecosystems, with human factors exerting a strong influence on ecological form and function. Our scientists focus on understanding the role of human influence and the impacts on natural processes in order to achieve meaningful restoration. Restoring urban streams also frequently involves working in and around complex human infrastructure, with a host of sometimes competing stakeholder interests. Our multi-disciplinary design approach suits this well, and has resulted in award-winning projects that maximize ecological benefits, connect people with nature, and educate residents on the importance of aquatic resources – all while addressing the social realities that are present in the urban landscape.
Minnehaha Creek, Minnesota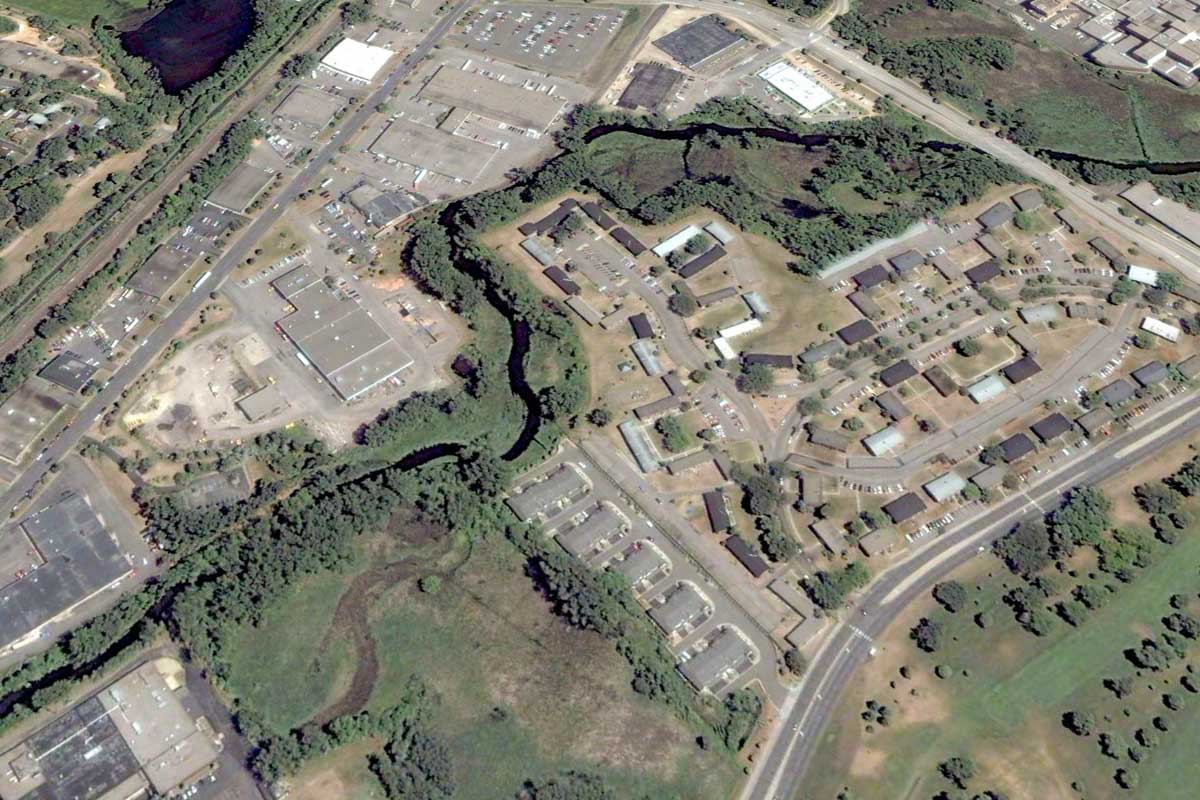 As early as 1949, Minnehaha Creek was dredged and straightened. However, straightening the creek has disrupted its natural flow and made it more susceptible to pollution. Inter-Fluve performed a 22-mile reach assessment of the creek in 2003 for the Minnehaha Creek Watershed District. Photo: Google Earth 2006, before construction.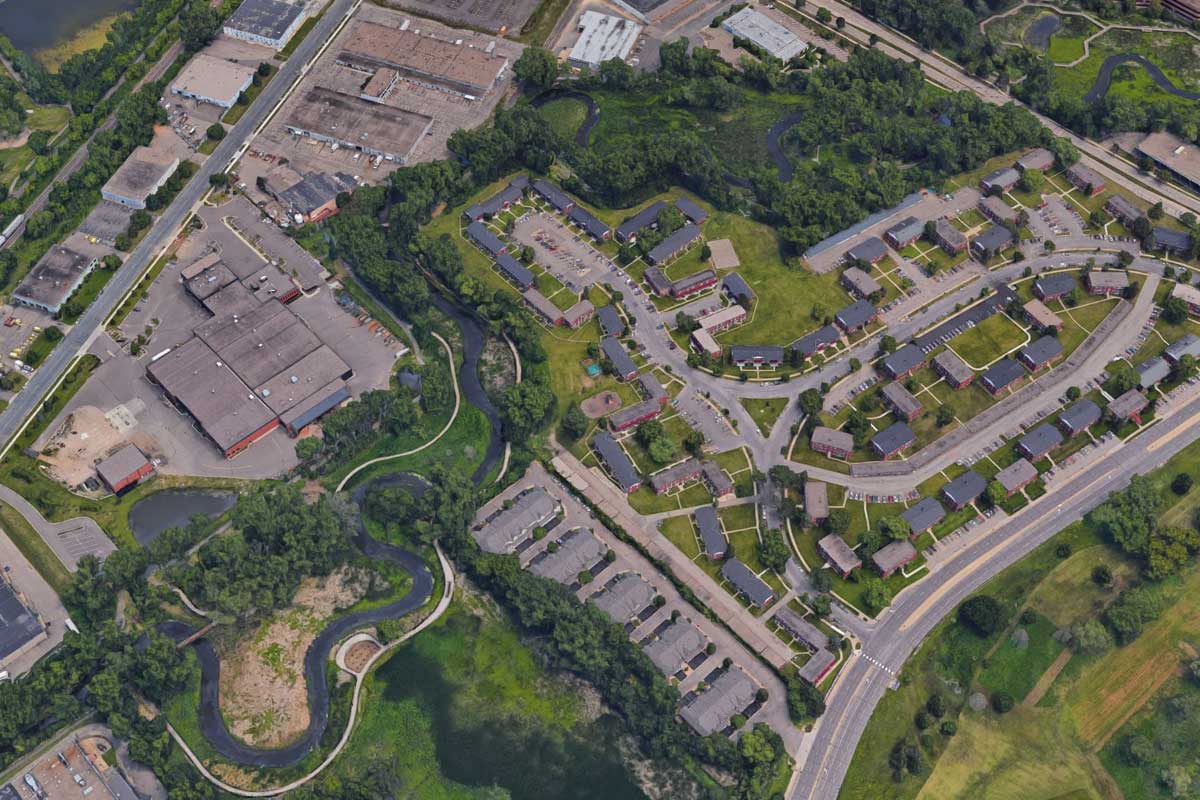 Over the last fifteen years, Inter-Fluve has worked with the Minnehaha Creek Watershed District and others to complete the highest priority projects that include bank stabilization, in-stream habitat, and riparian restoration plans, natural channel restoration, fish passage barrier removal, recreation access, infiltration design, road closure, wetland restoration and boardwalk construction. Photo: Google Earth, 2017 of Reach 20 (bottom of image) and Methodist Hospital (top of image).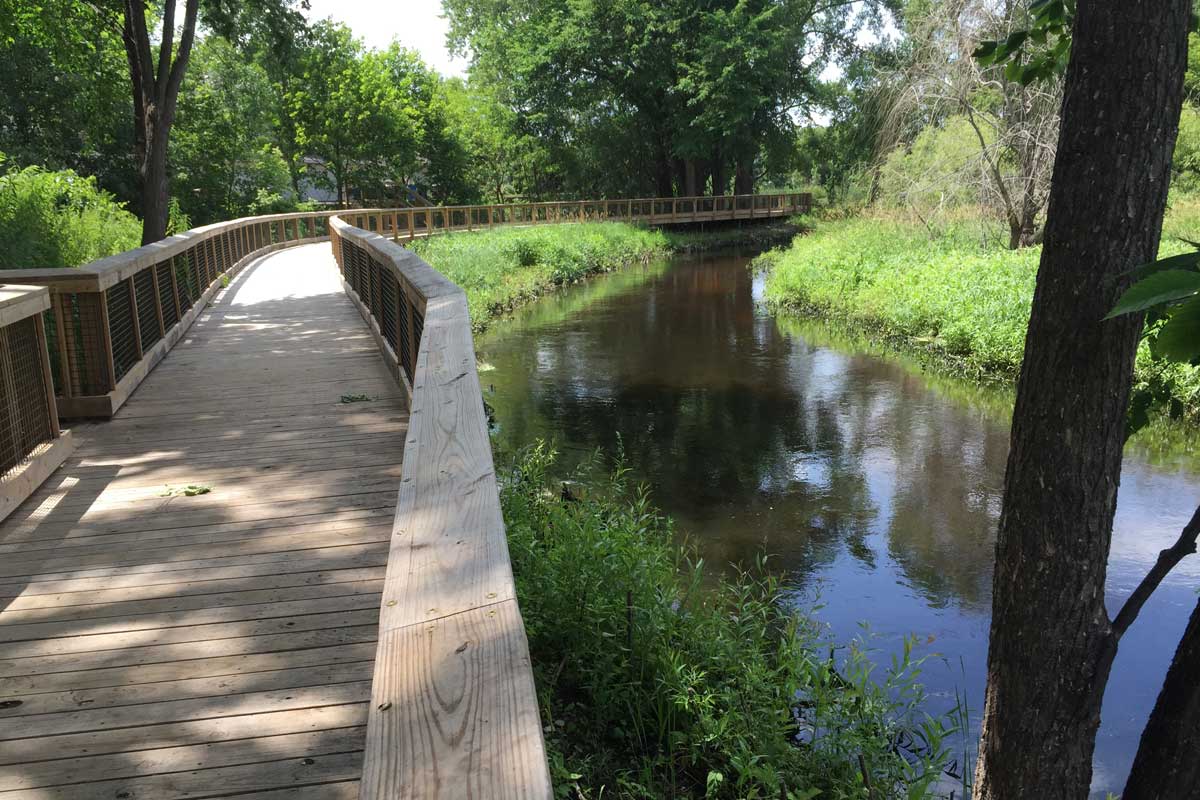 Boardwalks like this one at Reach 20 connect people to the river, and at the Methodist Hospital site, are are frequently used by the community and hospital staff to promote healing in patients. Future trails will connect the regional trail with the proposed Light Rail Transit stations in St. Louis Park.
Tanner Creek, Portland, Oregon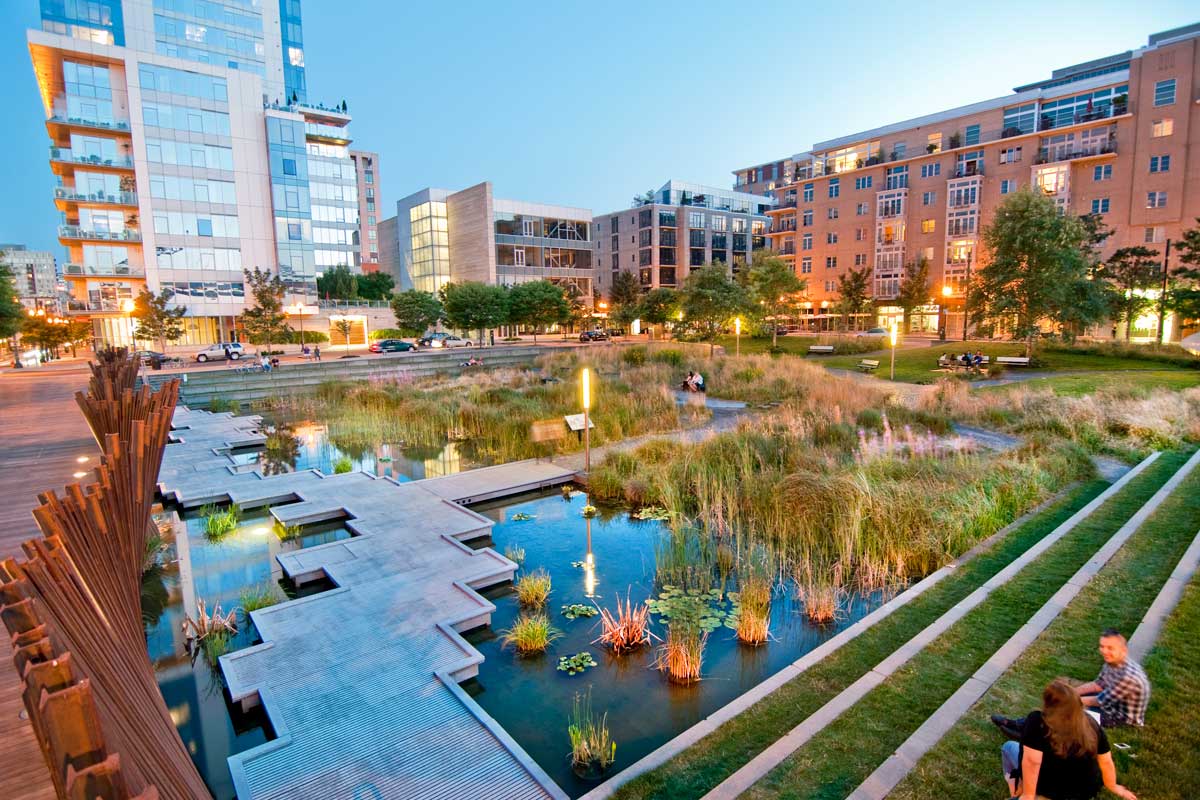 Tanner Creek originates near downtown Portland, flowing through a pipe under the city, and gathering stormwater from a major portion of downtown. In 1992, the City of Portland's Bureau of Environmental Services contracted with Inter-Fluve and other consultants to develop alternatives for removing sanitary sewer flows from the stormwater pipeline. Photo: Green Work PC. 
Hood River Water Front Park, Oregon
Squallicum Creek, Bellingham, Washington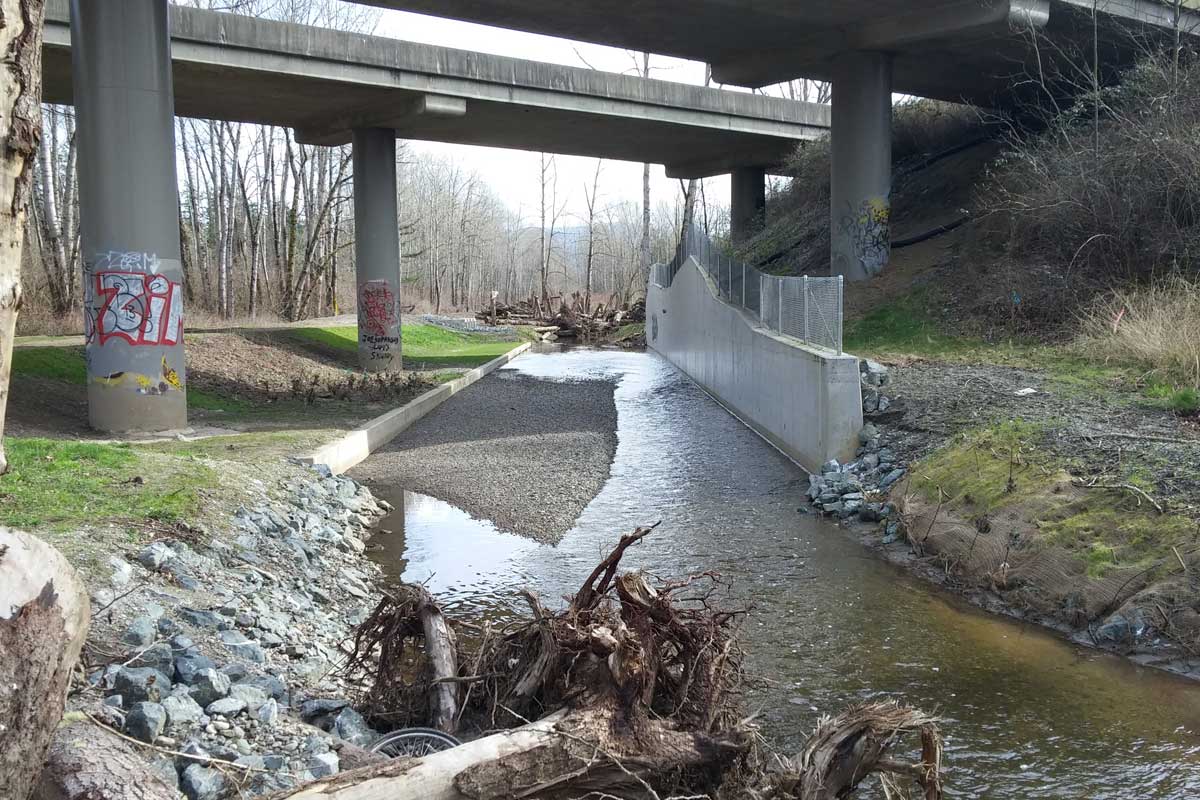 Bellingham's Squalicum Creek is home to coho, Chinook, and chum salmon, steelhead, and cutthroat trout. Urban runoff, forestry, agriculture, and construction of Intersate-5 have degraded conditions the creek enough to be listed as impaired for several water quality parameters. Inter-Fluve worked with the City, other stakeholders, and consultants on the Squalicum Creek Re-Route plan, which includes the goals of improving water quality, flood conveyance, and salmonid habitat. The new channel will bypass fish barriers and flow along a natural meandering planform with diverse bedforms, pools and riffles, and wood. The adjacent floodplain will support riparian forest and wetlands, providing shade, habitat, and greater width for floods to spread out and dissipate energy.
Allegheny Riverfront Park Riverbank Analysis & Design, Pennsylvania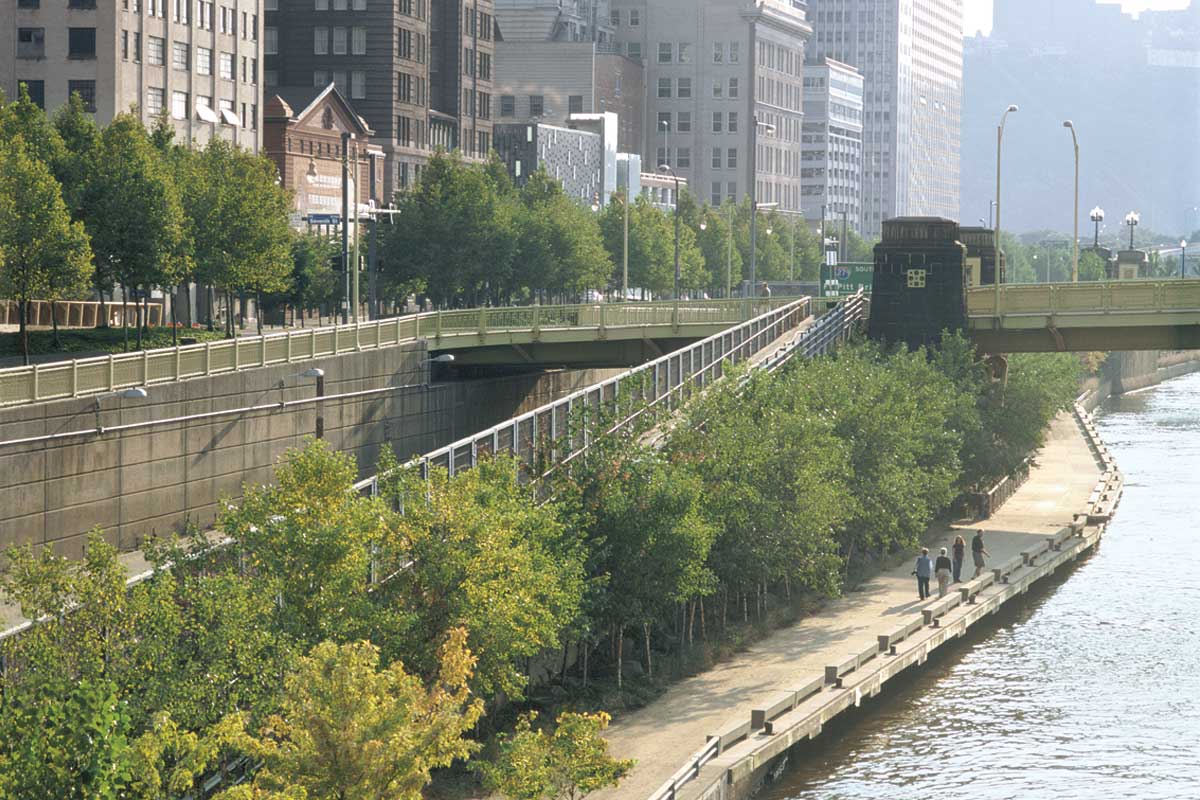 Inter-Fluve conducted analysis of site hydrology and hydraulics for design of the $11M riverfront park along the Allegheny River. This analysis was used to guide design of civil infrastructure, and to establish the design criteria for bioengineered river bank revetments. Photo: Michael Van Valkenburgh Associates, Inc.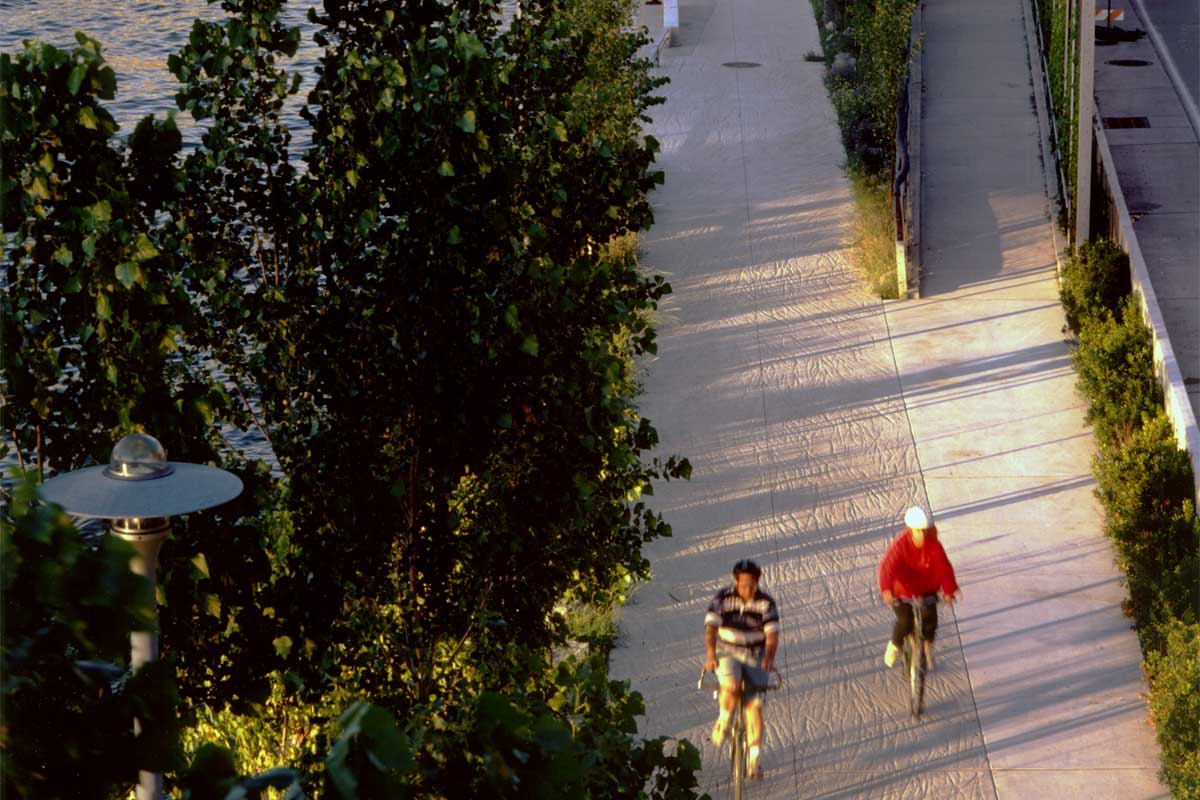 Our design and analysis was integrated with a team composed of international civil engineering groups and the nationally renowned landscape architecture firm Michael Van Valkenburgh Associates. The bioengineered terrace was designed to withstand inundation at 335,000 cfs. Today, the Riverfront Park is a popular urban destination for running, biking, kayaking, paddle boarding and canoeing. Photo: Michael Van Valkenburgh Associates, Inc.
San Antonio River Geomorphic Assessment & Preliminary Restoration Plan, Texas