Floodplains provide habitat for fish and wildlife, storage for floodwaters, clean our waters, and provide space for rivers to move. We examine historical and contemporary river corridor to strategically reconnect floodplains.
didi
2019-02-05T06:16:28+00:00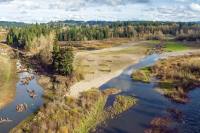 Metro, a regional government body, contracted Inter-Fluve to restore an abandoned gravel mine on the Clackamas River. In 1996 a 100-year rain-on-snow flood event caused the mainstem Clackamas River to breach a levee and flow through this active gravel mining operation.